Bach in business
Driven by a love of the outdoors and a desire for change, this alpine bach is a reflection of the creative duo who call it home.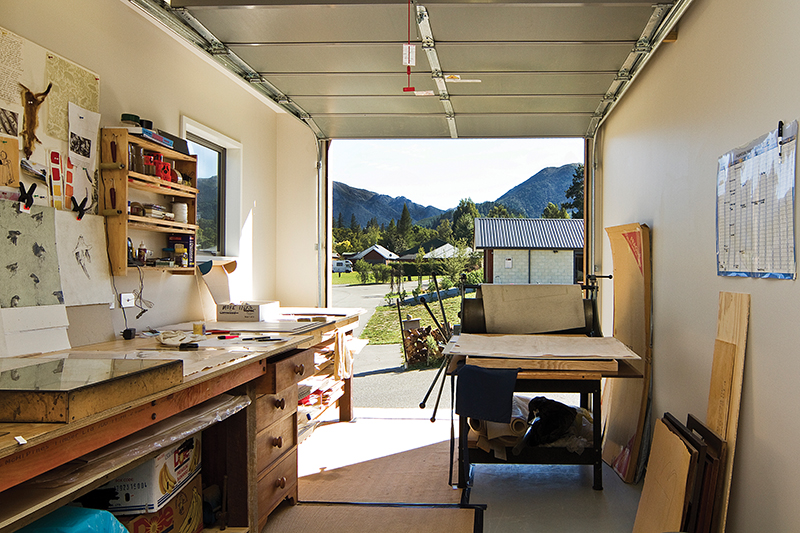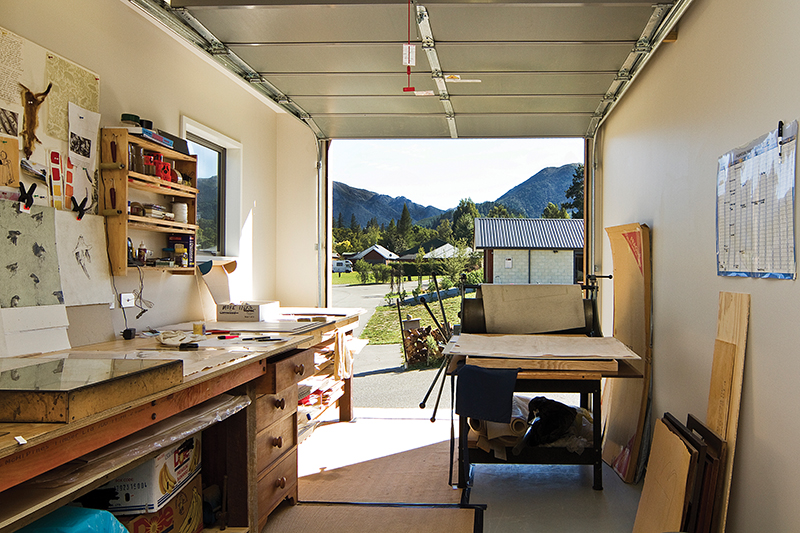 Faced with a damaged home in the wake of the Canterbury Earthquakes, Ben and Olivia Reid saw the opportunity for change. 'As we are both self-employed, we could move anywhere', explains Liv. 'The quakes offered us the chance to do something different and we thought, "why not?''.
While discussing the possibility of relocating north, or even as far south as Wanaka, the couple found themselves regularly up and down the road to Hanmer Springs, taking part in cycling races, outdoor activities and of course enjoying all that the vibrant town has to offer. 'We were really impressed by the town', recalls Liv. 'It ticked all the boxes.'
Discovering a triangular section, of which two-thirds backed onto Dog Stream Reserve, was the icing on the cake. 'We spend a lot of time outside, so the drawcard of having the forest on our doorstep and being able to explore the many tracks with Bella (5) and Austin (3) was too good to pass up.'
With the nature of the section posing some challenges, the couple finally found their perfect design with Ben Brady of Linetype Architectural. 'Ben was amazing', shares Liv. 'We knew what we wanted to achieve and went to him with a clear idea that he then tweaked and added his twists too', thereby transforming the design into a functional and beautiful family home.
'The brief was to create a relaxed alpine bach suited to this vibrant and creative young family', explains Ben Brady. 'With lush woodland as the backdrop, we wanted to draw the landscape, as well as the sun, into the home with key rooms addressing both.'
Reflecting its alpine village location in its gable form, the home comprises two forms, or gables, that have been twisted on the site so as to enhance the shape. 'The position of the home allows you to see and experience the design when driving into the property, rather than just seeing the side of a building', explains Ben Brady.
'The heart of the home, the kitchen, is key to any successful design, and in this instance is a linking point for circulation between the two modular forms', he continues. The master suite and living areas are found in the smaller form, with bunkrooms for the kids, a guest bedroom and studio/garage space housed in the other.
'The brief was to create a relaxed alpine bach suited to this vibrant and creative young family'
Reflecting on the design and functionality of the home, Liv and Ben are quick to credit their designer for his ability to think beyond the norm. 'The angles, exposed trusses in the living area, and addition of glass in the office transform how we live in the home.'
Crafting the design into a tangible reality was Paget Construction. Coming onboard partway through the build, Wayne Paget and his team were delighted to be part of such an innovative and creative home. 'For us, it was more of an alteration than a new build', explains Wayne, 'as the house wasn't quite halfway through when we took over; however much of what had been done had to be reworked.'
With their original builder unable to complete the build, the Reids were thrilled to find a local team to help them realise their dream. 'Wayne was great, and his team lovely – they really understood what we wanted to achieve', says Liv.
Once in the capable hands of Paget Construction, the build was a smooth and easy process. 'It is always great to be working with a builder who has an appreciation of and dedication to his craft', explains Ben Brady. 'Wayne and his team brought great value to the project. The execution of the cedar shiplap cladding on the exterior is testament to their level of detail and quality finishing.'
While Wayne agrees that it is great to see their work on show, 'there is a lot of hidden work that goes on behind the walls as well'. Aware that 'your name is all you have', like everyone involved he is delighted with the end results.
Confirming the satisfaction of those involved, the home was awarded a Highly Commended in the Residential Interiors Category at the 2016 Canterbury/Westland ADNZ Regional Awards.
For mixed-media artist, Ben, the home is the perfect balance between work and play, with the studio affording him the opportunity to create artwork in a dedicated space. Working with a combination of Intaglio and Relief printing techniques, Ben has built a reputation for intricate works that explore the delicate relationship we have with the natural environment. 'They are small stories for those prepared to listen', he shares, 'with each one combining specific references to local environmental histories with a wider appreciation for the conservation movement'.
'Who builds a garage to house a car?' laughs Liv. With two garages as part of the design, neither are used for vehicles. Rather they accommodate the creative endeavours of the couple – one for Ben and his printmaking, and one for Liv's business Pulse Yoga.
For architectural designer Ben, the home is one that perfectly reflects his architectural style. 'I enjoy matching the passion my clients have for their projects', he explains. 'And, when it comes to the finished project, I am always just as excited as my clients to experience the building in real life.'
While Liv and Ben reflect that this may not be home forever, it is a home perfectly suited to now: 'it is everything we wanted.'

Linetype Architectural | 021 960 202 | linetype.co.nz
Paget Construction Ltd | 027 243 2372 | pagetconstruction.co.nz
Words: Lucinda Diack Photography: Olivia Rei