Designed with love
Built by Chris Shearer Builders, this beautiful home was designed by architect John Chaplin to provide the ultimate in sun-filled hillside living for his daughter and son-in law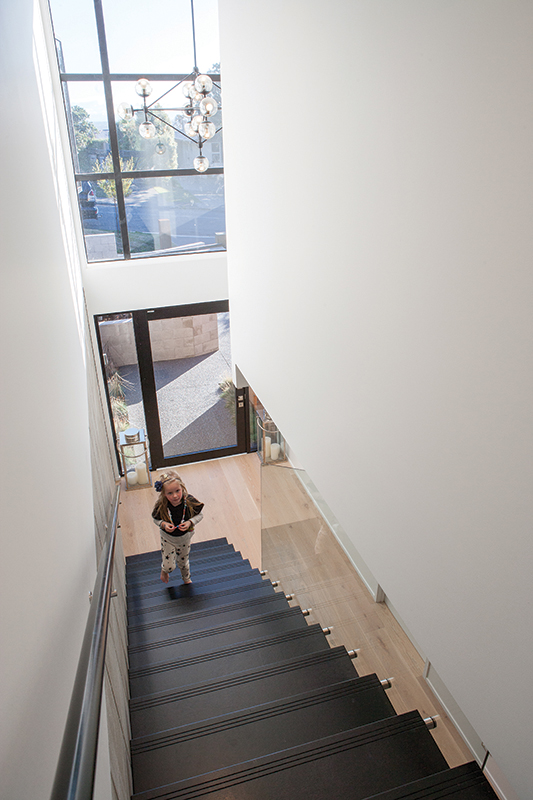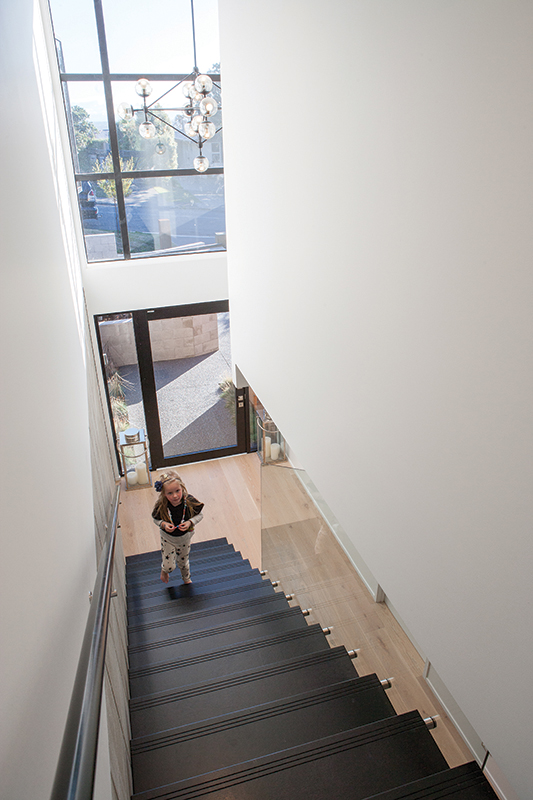 Talking to John Chaplin, of Chaplin Crooks Architects, it is immediately apparent that he is a man with two great passions: architecture and his family. The combination of these has resulted in a striking new home on the hill.
Like many homebuilders, once they found the perfect section, Amy and Lance Vincent called on their architect to help them to craft the perfect design. For Amy, this architect happened to be Dad.
For both parties, mixing work and family was a seamless process based on mutual respect and trust. This is the third home John has designed for the couple, and traces of the previous homes are identifiable in this latest venture. Smaller than their previous section, the compact site required detailed planning to ensure it capitalised on the sun and leafy surrounds, without opening the home up to the elements or blocking views.
Working alongside John was engineering company Lewis & Barrow. Having collaborated for a number of years, Chaplin Crooks Architects and Lewis & Barrow have established a deep trust and respect, allowing them to achieve the best of the best for their clients – aesthetically outstanding builds which have been engineered to perfection.
Specialising in all areas of structural and civil engineering design, the company worked with John to provide a site investigation and feasibility, which ultimately saw them involved in the design and engineering of the retaining walls, concrete foundations, reinforced block ground-floor walls, timber floor joists, steel beams and timber rafters.
However, being Christchurch and, in particular, a hill site, it was the completion of shallow geotechnical investigations which gave Amy and Lance the peace of mind their design would be fit for family living. 'You have to understand hill sites in order to capitalise on what the site has to offer', explains John, 'and part of this is understanding what lies beneath'. Extensive experience with hill designs in his back pocket, and a personal love for the hills – living only minutes away – John offers a unique perspective when it comes to tackling these challenging sites.
'Not only do they require detailed engineering but the design needs to complement and enhance what is there', he continues. 'Like many sites, this one called for a circulation of space, which essentially is about achieving a double-ended interior space.' A design which offers living spaces – be they inside or out – at either end of the home to capture both morning and afternoon sun.
Flowing east to west, the open-plan nature of the living area provides a central space for family life, while seamlessly achieving distinct areas. Found on the upper of the two levels, it is this space that Amy credits as her favourite in the home.
Entering the property, it is the combination of exterior materials that instantly grabs your attention. 'We wanted our home to make a statement, yet blend in', shares Amy.
At first glance the home appears as though it is a simple black box, and it is only at second glance that the materials start to reveal themselves. Painted FlaxPod, the corrugated Colorsteel is highlighted by Shadowclad, which is painted Nero. The textural combination is then offset by the addition of Corten steel, which appears to frame the garage. 'Lance was the driving force behind the steel', offers Amy.
'I knew I wanted to use Corten steel from day one', he shares, 'and the way it extends up beyond the garage to offer privacy as well as texture to the upstairs deck is better than we could have hoped for'.
For Lance, a builder himself, the decision as to who would translate the design from paper to three-dimensional reality was an important one. Having worked alongside Chris Shearer before, Lance knew he could trust him and his team to execute the flawless finish they sought.
'Building a house for a builder can be daunting', shares Lance. 'But Chris Shearer Builders did a wonderful job. They were hands-on, approachable and always available to talk things through.'
Operating for over forty years, the boutique building company is recognised for their eye for detail and friendly, reliable service. And their experience in the local environment ensures they are well-equipped to deal with the challenges of the Christchurch landscape.
For site foreman Willem Shearer, the architectural detailing of this home combined with the unique hill site presented the construction team with the opportunity to showcase their talents. 'In all of our builds we ensure our clients are guided through the process', explains Willem. 'In this instance Lance and Amy were involved every step of the process, and we were able to collaborate closely with them from start to finish.'
Willem also identifies the combination of exterior cladding materials as a standout feature, and is quick to point out that the quirkiness of the building continues around the western side where the Shadowclad sheds its dark colour in favour of a bold, Kowhai Gold – adding interest and a sense of fun to the backyard.
'Both inside and out, the house is sophisticated, warm and inviting', continues Willem. 'It is raw, yet natural and a great example of what can be achieved on a challenging, compact hill site.'
No strangers to the challenges of a hill site or to the various levels they bring with them, C3 Canterbury Ltd were brought on board to add the finishing touches to the exterior. Working with the architectural plans, the concreting team used a combination of high-grade mesh and concrete with an exposed aggregate finish on both the pathways and driveway.
Faced with an unusually-shaped driveway, complete with turning bay and off-street parking, C3 was charged with achieving the desired consistency without compromising on product or design. 'The team relished working on the unique driveway – alongside such a striking house', shares Rebecca Skinner of C3. 'It was great to be part of such a beautiful project.'
'Despite following a career as a chartered accountant, and not working in design, Amy has a natural aptitude for architecture and design.' As John comments, 'she has an excellent sense of materials and colours, which becomes apparent as soon as you enter the home'.
Of instant appeal is the oak flooring found in the open-plan living areas and impressive entranceway. The European Oak boards in White Country make a stunning addition to the home, and offset the crispness of the white interior.
Assisting Amy and Lance with their decisions around their flooring materials was Unico Italiano. 'The house is designed to be light and open, giving volume to the living areas', explains owner James Manser. 'Our role was to provide solutions, which were in keeping with the simplistic design, while being practical and timeless.'
Adding subtle texture and pattern to the bathroom is the addition of floor-to-ceiling tiles. 'An elegant, antique and ever-fascinating material, marble comes in a variety of sizes, colours and shapes', explains James. 'Here we used one of our exclusive ranges, Palissandro by Rex, which has onyx veinings.' Playing on the monotone white palette found throughout the home, the tiles provide a luxurious, yet practical finish to the bathrooms, without compromising on design.
Much more than simply a flooring outlet, the experienced team at Unico are also able to work alongside clients with their bathroom and even kitchen needs. In this case they provided Amy and Lance with a one-stop shop for their bathroom, supplying New Zealand-made vanities, tapware and the beautiful bath.
While there are no immediate plans to collaborate for a fourth time, neither architect Dad nor client daughter are ruling out the possibility of future ventures. However, for now, this bold family home is everything Amy and Lance had hoped it would be, and more.
Words: Lucinda Diack Photography: Mette Kristiansen