Polished
This new build by Mark Sutton Builders is truly polished - from its concrete foundation up. But, more than a stunning showpiece, this is a home to be lived in and loved.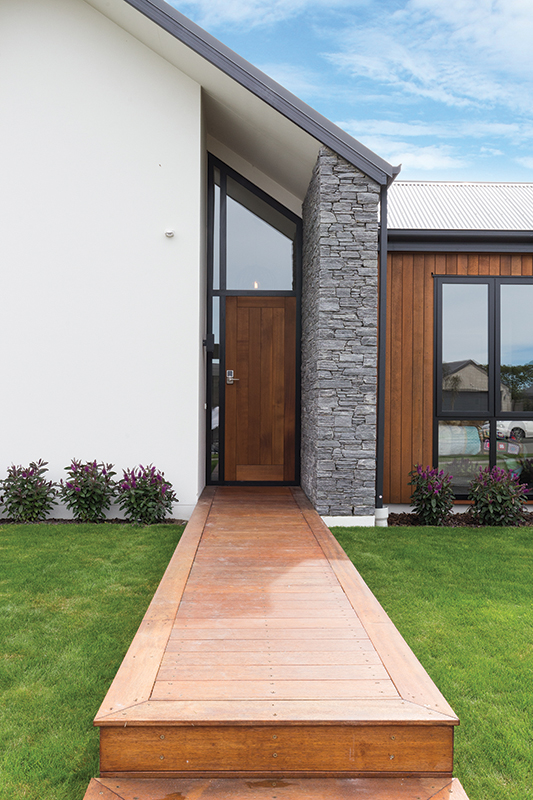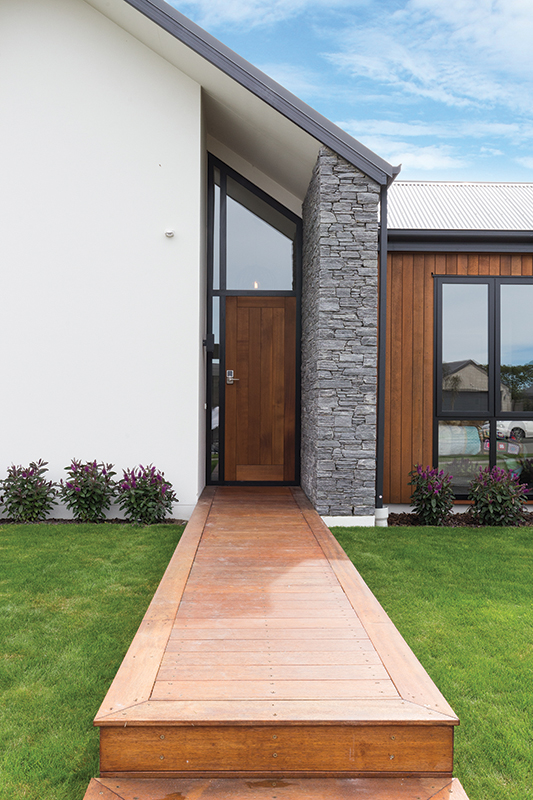 Hayley and Cam Stevens were 'looking for a project' – something they could pour their combined energy, creativity and expertise into. As the director of Cam Stevens Plumbing, Cam had obtained valuable insights into the building process, and had developed strong ideas as to features he wanted in his own home. Hayley relishes a project, and 'loves colour, texture and design'. Together, they wanted to create a stunning house that would be their 'safe haven'.
'We kept coming back to Waitikiri', says Hayley. 'Many of our friends had also bought sections, and it was close to our previous home'. Down a quiet cul-de-sac they struck upon the perfect spot, and, with architectural plans already drawn up by Sean McCurrie, of SDMC Architecture, they were able to envision a striking home materialising in the space.
'I wanted a home that was big, warm and inviting, and the design really appealed', says Cam. 'I really liked the way the house sat on the site, and was drawn to the cathedral ceilings.'
As Sean says, Waitikiri is 'very well looked after' – which he puts down to the developer's commitment to excellent urban design. 'We take care to work within the guidelines set out by the Waitikiri design review board.'
Having enlisted Sean to tweak aspects of the design in line with their priorities, the couple turned to a builder whom they trusted implicitly. Cam has worked with Mark Sutton, of Mark Sutton Builders, for over five years, and he and Hayley had every confidence putting their special project in his hands. 'Mark is always forthcoming about wanting the best outcomes for his clients', says Hayley.
On a peaceful cul-de-sac in the unique development of Waitikiri, the exterior of this home fits in, yet stands out: with sharp segments of plaster and cedar, punctuated by a column of dry-stacked schist, layers of gables, and a strong line-up of windows accentuated by dark aluminium.
Integral to this striking exterior, the panel, plaster and paint work was completed by Tyson Keats and the team at TK Plastering. The Rockcote Integra panel with PSL float finish has been painted in Resene Black White, which is offset by sections of warm cedar. TK Plastering does all of Mark Sutton's work, sharing Mark's exacting standards of workmanship and meticulous attention to the finer details. Tyson comments on the way that Mark 'ties it all together' – referring to the balance achieved with the cladding materials on this build.
For Mark, tying it all together, and 'making sure everything flows', is imperative. 'It all needs to link and feel as one – from the letterbox to the backyard'. Mark believes that 'simple forms can be better', and says, 'the design, here, isn't overcooked, overcomplicated – it flows beautifully'.
Partnering with Mark to manufacture and supply all the frames and trusses for the build, as well as the structural steel, was Dyers Road ITM. The separate divisions of the business share details and measurements, which allows for faster construction. For this build, Mark chose J Frame as his timber framing. Slightly more expensive than traditional timber, it is laminated and so remains 'long and true', says Bruce Ramsey of ITM – 'making it ideal when there are overheight walls, as in the kitchen, living and dining areas of this build'.
Consulting with Hayley and Cam, and with Mark, as to options for aluminium joinery was Shearmac Aluminium. As Lynne McDonald of Shearmac explains, this approach means that everyone is working towards the same outcome, and that clients fully understand the advantages of the joinery being supplied. Fairview Architectural aluminium joinery was selected for the home's many windows and doors, the distinctive flat profile achieving a streamlined appearance in keeping with the clean lines and smooth surfaces of the rest of the home.
Inside, elegant lines and sleek surfaces combine for a result that is fresh and inviting. While the glorious cathedral ceilings elevate the space, natural light streams through the expansive windows and plays across the fully exposed polished concrete floors.
Hayley picks the polished floors as a favourite feature – the natural arrangement of the stone in the concrete bringing subtle texture to the space. Added to the aesthetic appeal, a hydronic underfloor heating system means that the floors radiate warmth, as water gently circulates through pipes encapsulated in the concrete slab. Designed and installed by Simply Heat, the system consists of 12 circuits, each with a precisely regulated flow of warm water to maintain each zone at the desired temperature. This was one inclusion Cam was really excited about – and he enjoyed working with the team at Simply Heat to arrange the pipes in the foundation.
Seeking a carpet that would complement the polished concrete floors, and allow them to feel the warmth of their underfloor heating, the pair called on Dan Herron at Coastal Carpets. As Dan explains, the Misty River Pepper Stipple 100% solution-dyed nylon carpet was chosen, and installed with a 10mm foam chip underlay, for a hardwearing solution that blended well with the décor and polished floors, and enabled the couple to enjoy the benefits of a heated floor.
With heat radiating from beneath and sunlight skimming across the surface, the raw, yet luxurious concrete floors are popular with Tui, the dog, and Tulip and Benny, the cats. Stretching from the kitchen to the adjacent dining and living, and tying the open-plan space together, the flooring is also highly practical and easy-to-clean – ideal for a couple who have pets.
And for a couple who love to entertain. In fact, the kitchen-dining-living spaces have already played host to a 'fiercely competitive round of MKR with our friends', shares Hayley.
Designed by Kitchen Essentials, 'to fit the fabric of the home and complement the established selection of the polished concrete floors', the kitchen blends sophistication and simplicity. As Senior Designer, Amanda Kingston, explains, 'materials were selected to complement the overall house design and achieve an elegant and classic appearance'.
The joinery is a combination of Touch Alpine White Lacquered Laminate and Oak Provence, the latter used as the benchtop surface in a separate pantry behind the main kitchen. Meanwhile, Textured Absolute Black Granite and Corian Glacier White benchtops delineate the space, whilst connecting it to the adjacent living areas. As Amanda says, 'the contrasting use of textures' between the benchtops makes for an 'absolutely stunning' design.
The interior of this home may be polished, but personal touches to the décor make it charming.
The interior of this home may be polished, but personal touches to the décor make it charming. Keeping company with the feline and canine family members, two bronze ducks have made themselves at home. 'Cam is a duck shooter', says Hayley, 'and he is married to a woman who adores ducks – and these were a Christmas present'. Meanwhile, a map of the United Kingdom, from the 1800s, anchors this modern home to a region of the world that is important to the pair.
Cam and Hayley are a couple who know what they like, and, whilst one loves ducks and the other likes to shoot them, when it came to building their home, they tended to 'reach agreement on things pretty easily'.
As the director of Cam Stevens Plumbing, Cam had certain features he wanted in the bathroom – like a double vanity, toilet with wing-wall and large walk-in shower. Hayley recalls meeting with architect Sean McCurrie: 'he was able to pick what was important to us, and, by shaving 200mm off the wardrobe, we gained the necessary space to incorporate all these features'.
In his work, Cam regularly accompanies his clients to Zip Plumbing Plus to select and source bathroom products and plumbing supplies. As Showroom Manager, Tamara Pope, explains, 'Cam gives people advice as to what they need, and it comes from a good place' – that desire to see people get the most out of their bathrooms.
At Zip Plumbing Plus, the team does it all, guiding people through the process of restoring old bungalows or fitting out beautiful new builds like the Stevens'. 'Our purpose is to make the decision-making process as painless and stress-free as possible', says Tamara. 'For many people, a toilet is a toilet, and they are looking for guidance; but Cam and Hayley came in with clear ideas about what they wanted.'
The bathroom and ensuite have been put together with an unfaltering commitment to sophistication and luxury, with Methven Waipori tapware, a beautiful freestanding bath and Onda toilet suites from VCBC. For Cam, the Hangrohe thermostatic controlled shower in the ensuite was a sought-after feature. 'It's a massive shower with a head at each end. You just push a button and the desired temperature is set.'
Whilst the pair had notions as to certain additions they wanted, as first-time homebuilders, they regularly solicited Mark's advice. 'Mark readily shared his IP with us', says Hayley. 'I could text him and ask a question about almost anything, and he'd make suggestions.'
For Mark, every build he undertakes is completed 'with thought'. Every option carefully weighed, every detail judiciously integrated: so that solutions are reached that best suit the circumstances and lifestyles of his clients. 'It is vital that clients are involved and informed; and it's my job to ensure that they know their options, and understand all the implications.'
This principle of doing everything 'with thought' underpins the work of the whole team at Mark Sutton Builders. Mark is animated in his praise of 'the guys', Ryan and Mark, for their rigorous approach and tireless commitment to this and every project: 'they are bloody spot on'. And he speaks highly of his 'consistent, trusted' line-up of contractors.
'What I like about Cam [as a plumber] is that he is thoughtful, and everything is done for a reason. Whether it is hidden or not, it should be right – that's his approach to every job.'
Cam echoes this sentiment, 'Mark's a bit like me – he's easy to get along with, and he sorts stuff out!'
Like Hayley and Cam, Mark is a passionate builder who is driven by his vision of the end result, but who also relishes the process. 'I love to be mentally challenged. My name is on the sign, and I am the guy on the tools. While some people have aspirations of getting off the tools, that's not me: I enjoy being outside, doing the job, and making sure it's right.'
As Mark says, 'little things add up to make a big difference', a conviction that exemplifies the way that every member of his team carries out their work.
And the result epitomises this aphorism beautifully: from its MAXRaft fully-insulated foundation, with premium in-slab heating, to the stunning fully exposed concrete floors, to the luxurious bathroom features – this home is polished in every way.
But while they love their exquisite new home, as Hayley says, 'it is not a showpiece, it is our home and safe haven'.
Words: Kate Barber Photography: Charlie Jackson
Styling & production: Majka Kaiser / Comber and Comber